The career center platform associations love
Over a decade of experience generating non-dues revenue and increasing member engagement through modern career hubs.
Talk to an expert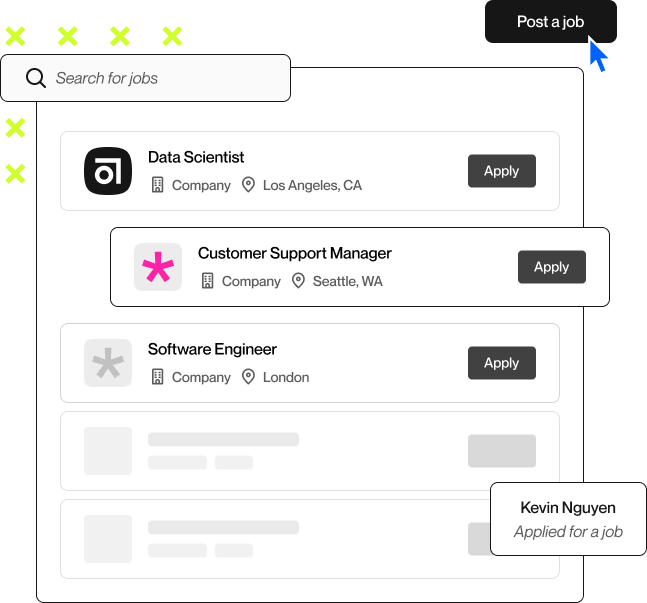 Attract more members organically
Offer a premium career center experience and become the go-to source of jobs in your industry. Make your career center public to attract new members with our unmatched search engine optimization and direct Google Jobs integration, or limit the career center to your members through our single sign-on integration.
Talk to an expert
Create lifelong members
Achieve unrivaled engagement, loyalty, and retention rates by helping your members advance their careers and achieve their goals. Gain a deeper understanding of your members through complete professional profiles. Match them with the right opportunities and keep them engaged with automated personalized campaigns you control.
Talk to an expert
Generate recurring non-dues revenue
Offer employers a wide range of self-serve advertising options from built-in products to your own custom creations.
Personalize products, pricing, and promotions based on membership level.
Use our conversion rate optimized flow to upsell employers at the right time and maximize your average order value.
Convert your products to a subscription model with a click and start generating effortless recurring revenue.
Deliver a modern experience
Best-in-class search
Connect job seekers with jobs they actually want – using our modern, remote-friendly, customizable search experience.
Customizable fields
Ask the right questions from job seekers and companies. Make the answers public, or just use them to make smarter decisions.
Talent network
Enable employers to search, browse, and connect with job seekers in your own LinkedIn-like talent network experience.
Flexible applicant tracking
Help companies manage their talent pipeline right in your job board with a customizable applicant tracking system.
Real-time chat
Enable employers and job seekers to communicate right in your job board - increase engagement and maximize hiring success.
Employer branding
Empower companies to attract talent by telling their story using public company profiles with customizable widgets.
Helpful humans every step of the way
We provide every customer (big or small) with white glove onboarding and ongoing support. Let's deliver a delightful job search experience together.
Talk to an expert